Best National Pet Month Deals at Walmart Throughout May 2023
It's cause for celebration whenever you can save money on pet supplies. And this National Pet Month, Walmart is celebrating with wag-worthy, purr-prompting deals for the entire month of May. That means it's a great time to stock up and save on everything from pet food and treats to must-have gear.
So get ready to fill up your cart with great National Pet Month deals on pet essentials. And don't forget to throw in a few extras, like cat toys, dog bones, or anything designed to make life easier for pet parents, too!
We've scoured all of Walmart's National Pet Month deals to find the very best (and biggest) savings for you, including deals on top sellers and popular brands. Happy shopping!
All featured products are chosen at the discretion of the author. However, Great Pet Living may make a small affiliate commission if you click through and make a purchase.
Walmart National Pet Month Deals: Our Top Picks
Best Deals for Dogs and Cats
Best Deals for Dogs
Best Deals for Cats
Best Walmart Pet Month Deals for Dogs and Cats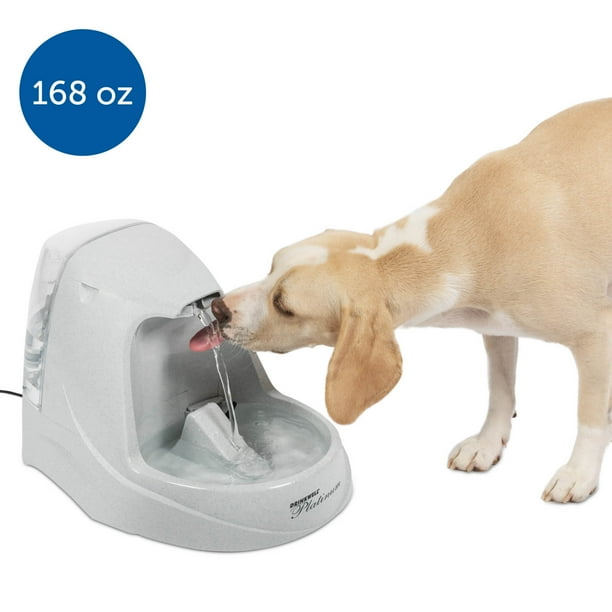 Cats require about 7 to 8 ounces of water each day to stay hydrated, while dogs need to drink about an ounce of water for each pound of body weight daily. That can make keeping a pet's water bowl filled a never-ending task, especially for those with larger breeds. Designed to make life easier on pet parents, the PetSafe Drinkwell Fountain is a dream come true. This innovative fountain helps dogs and cats stay hydrated and saves you time and effort. It provides 168 ounces of fresh, filtered water, circulated constantly so your pet gets clean, fresh water with every lick. The free-flowing stream isn't noisy and encourages pets to drink throughout the day. The affordable price point makes this fountain ideal in different parts of your residence or for gifting to a pet-loving pal.
PROS
East to clean; fountain is safe for the top rack of your dishwasher.
Adjustable water flow control.
Generous 168 ounces capacity.
Falling stream encourages pets to drink
CONS
Filters must be replaced every two to four weeks.
Available in one color only.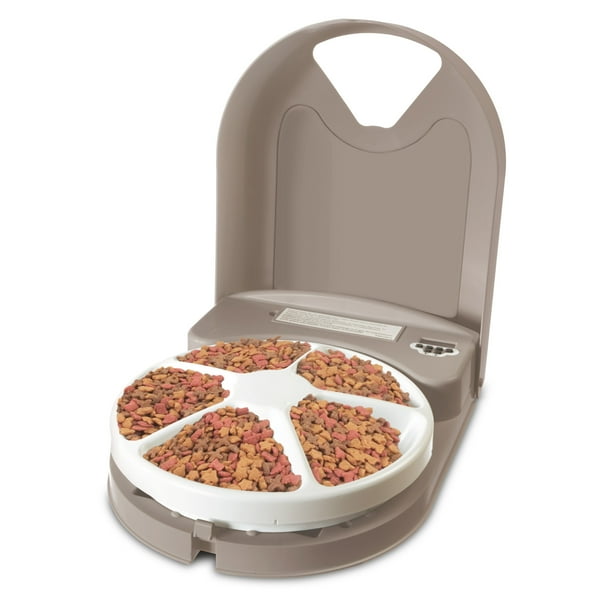 Whether you're running late at the office or have a long day ahead, the PetSafe 5-Meal Pet Feeder has got your back. There's no need to worry about your cat or dog missing a meal with this handy tool designed for busy pet parents. The unit holds five cups of food and includes a digital timer for mealtime scheduling. If you'd prefer to give your cat or dog a treat while you aren't home, simply place treats in the slots instead. You control the frequency, quantity, and feeding schedule. So whether you're out of the house or simply want to automate feeding to give you more time to play with your pet, this feeder is a must!
PROS
Battery-powered feeder can be placed anywhere you need it.
Can be a helpful tool for portion control and weight management in pets.
Each compartment holds up to one cup of dry or semi-moist food or treats.
Feeding option can be suspended if you and your pet won't be home.
Washes up easily on the top rack of a dishwasher.
Feeder runs on four D-cell batteries so there are no cords to trip over
CONS
Be sure to clean the bowl daily to prevent bacteria from forming.
Pets may need a period of adjustment to get used to the unit.
Best Walmart Pet Month Deals for Dogs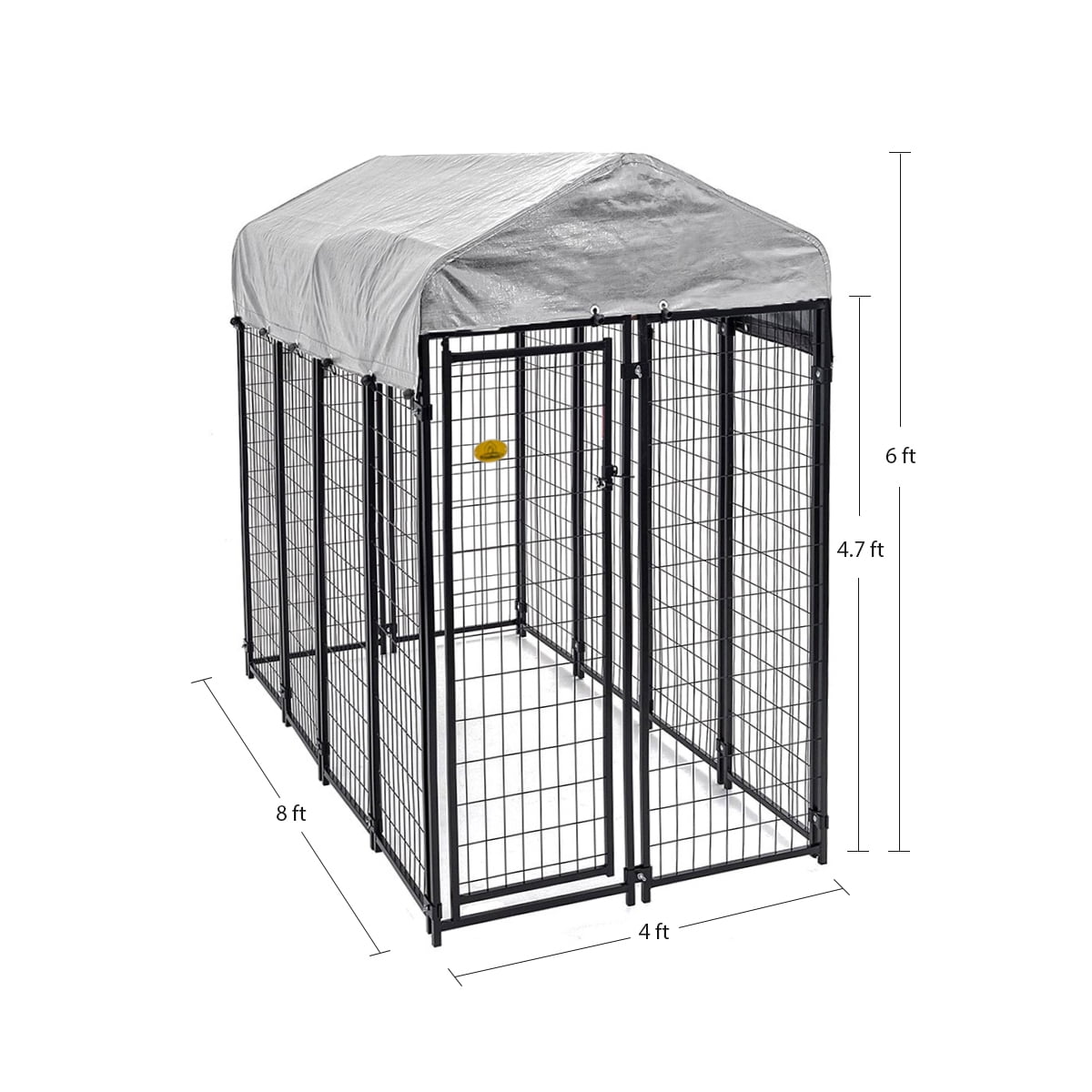 Dogs love to be near their pack — and that means you and your family! And with this sturdy Kennel Master Dog Kennel, you can keep your dog by your side and safe in the great outdoors, even without a fenced yard.
The durable welded wire construction provides a safe space for your pup to chill outside while you swim, garden, entertain, or tend to other outdoor chores. The spacious enclosure is easy to assemble without tools, so you'll have it up in no time. And it features a vinyl top for extra protection from the elements. If you have space indoors, this works nicely as a training area or roomy containment option, too.
PROS
Measures 8' x 4' x 6', making it roomy for dogs of all sizes.
Ideal for indoor and outdoor use.
Plastic caps prevent precipitation from getting inside the panels.
Made of sturdy 12-gauge wire so dogs can't chew, dig, or climb through.
Comes with a waterproof cover to protect your dog from rain or sun.
CONS
Not escape-proof; determined dogs could dig their way out
Some users say the instructions were unclear.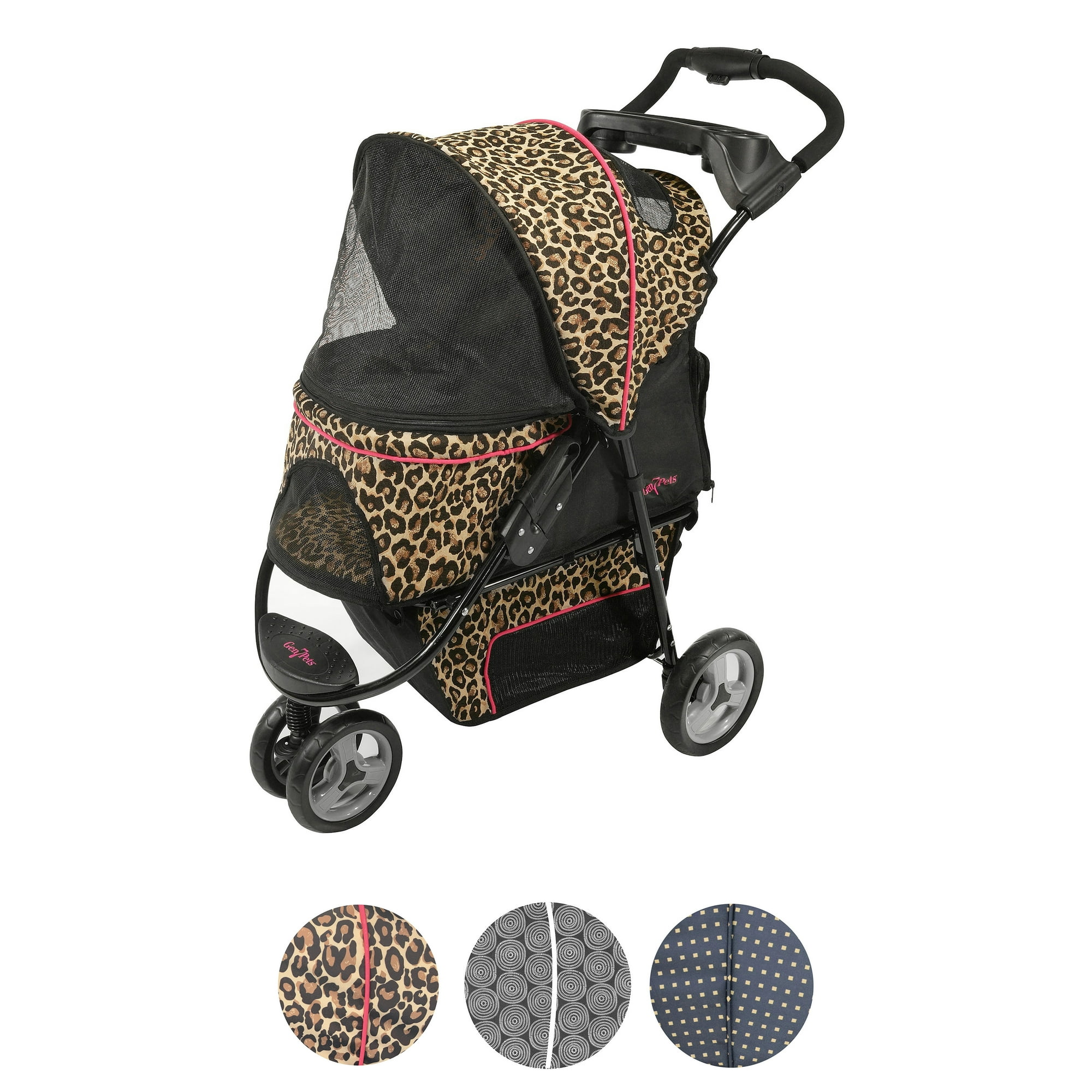 Why rock when you can rock and roll in this uber-posh Cheetah stroller from Gen7Pets?! The Promenade stroller is designed for dogs up to 50 pounds and has a built-in storage basket that is larger than most other stroller brands offer. Featuring a front and rear mesh window and adjustable tether, your dog can remain safe while riding in comfort and style. No more stubbing your toes on the rear axle like other pet strollers – the Gen7Pets Promenade is designed with more kick space when walking. Happy trails!
PROS
Can be used to transport dogs or cats up to 50 pounds.
Handle has a built-in cup holder, plus space for waste bags or your phone.
Fashionable leopard print is trendy and chic.
Folds easily for storage.
Generously sized at 35"L x 21"W x 39"H.
The inner pet bed measures 25" x 13", so two smaller dogs can fit comfortably.
CONS
A bit on the heavy side at 16 pounds.
Small wheels may not perform as well on rough terrain.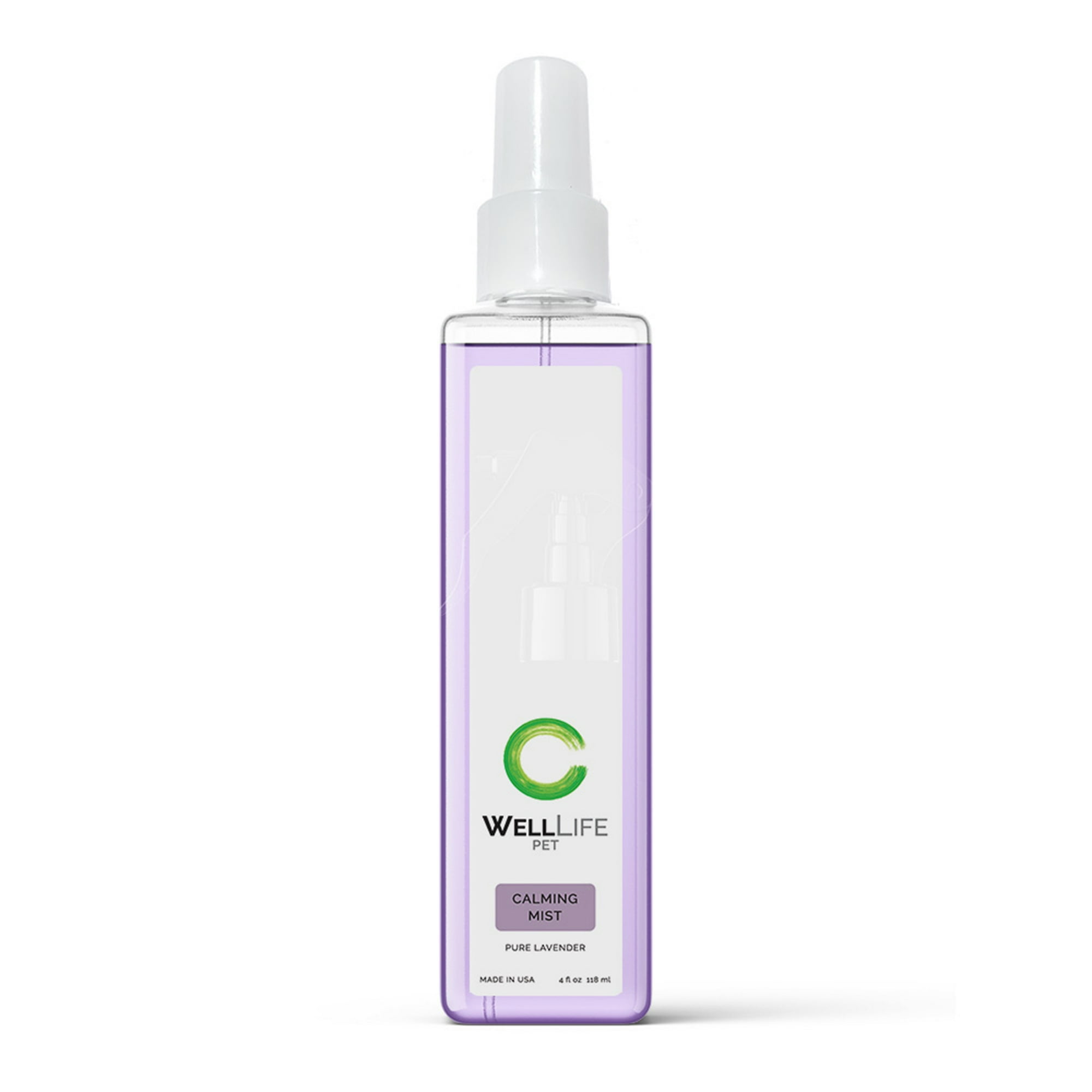 With celebrations, fireworks, and thunderstorms in the forecast, summertime can be hard for some dogs to handle. Luckily, Well Life has a calming mist to help soothe your pet's frazzled nerves. Lightly spray this refreshing lavender mist on your dog's collar, clothing, or bedding. The natural, plant-based formula gets right to work helping your dog feel less stressed. Made with pure lavender hydrosol from the lavender fields on Long Island in a safe, gentle blend.
PROS
Natural, non-medicinal way to help stressed pets.
Made with pure, pet-safe lavender hydrosol.
The handy 4 oz spray bottle stores easily in a travel bag.
Can be sprayed on the dog's collar, anti-anxiety wrap, clothing, or bed.
Made in the USA.
Vegan, pH-balanced, plant-based, and free of parabens and phthalates
CONS
Only one size is available.
May not be appropriate for those who are sensitive to smells or don't like lavender.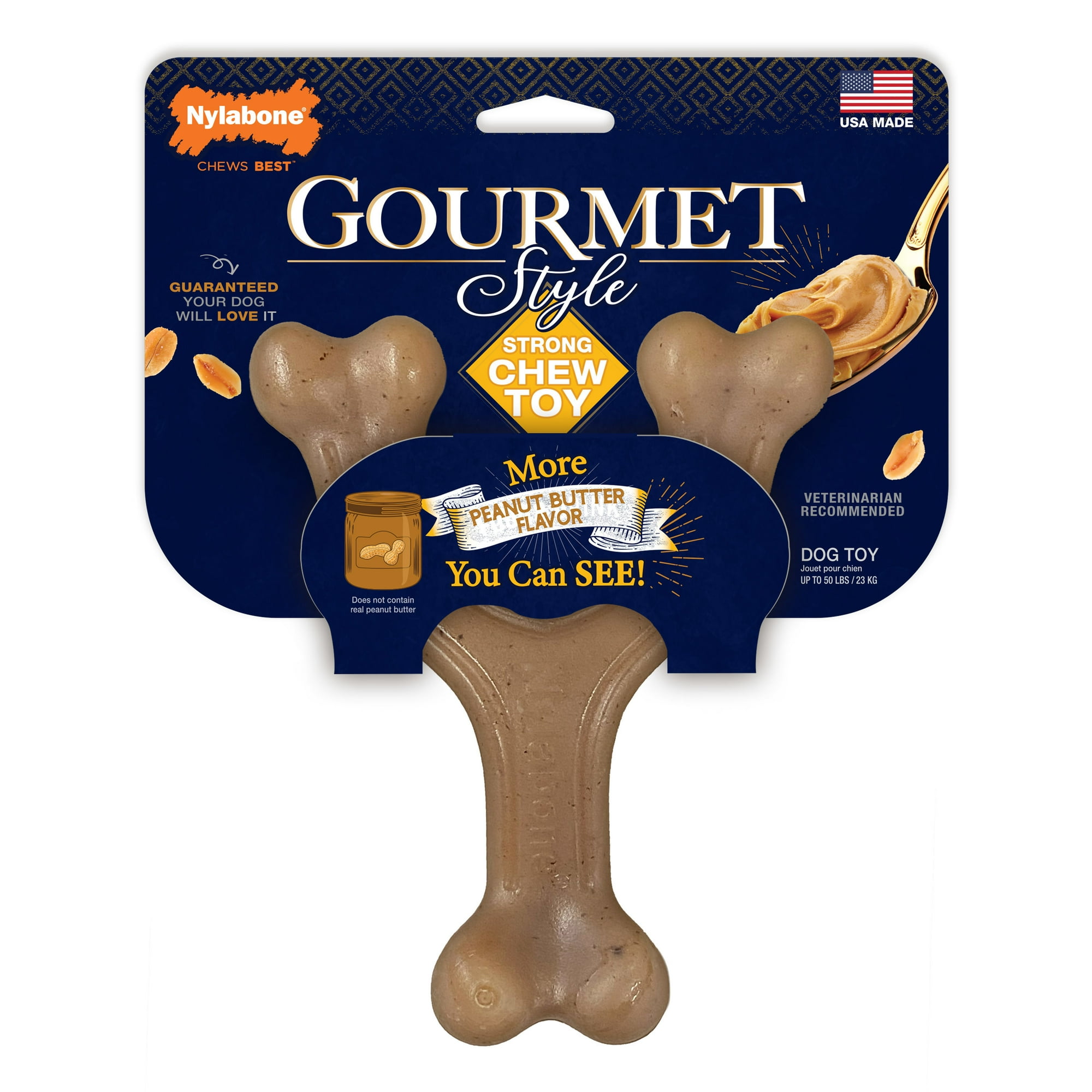 Some pups just seem to live by the credo, "A dog's gotta chew." If that's the case in your household, this engaging and durable chew toy from Nylabone is ideal. Not only is it infused with yummy roasted peanut butter flavor throughout, but the wishbone design also features three different chewable ends. So your chew-happy pup has plenty of options to chews from (and none of them are you or your furniture). Veterinarian-recommended and made in the USA, this peanut butter chew is so tantalizing, even the fussiest canine palates won't be able to resist this crave-worthy chew toy.
PROS
May help reduce plaque and tartar as your dog chews.
Arched design is easier for dogs to chew at any angle.
Three ends for extra chewing enjoyment.
Money-back guarantee from Nylabone should your dog not enjoy it.
Tough Nylabone material lasts a long time.
CONS
Like all chew toys, this one must be used with supervision and replaced at the first sign of wear.
Best Walmart Pet Month Deals for Cats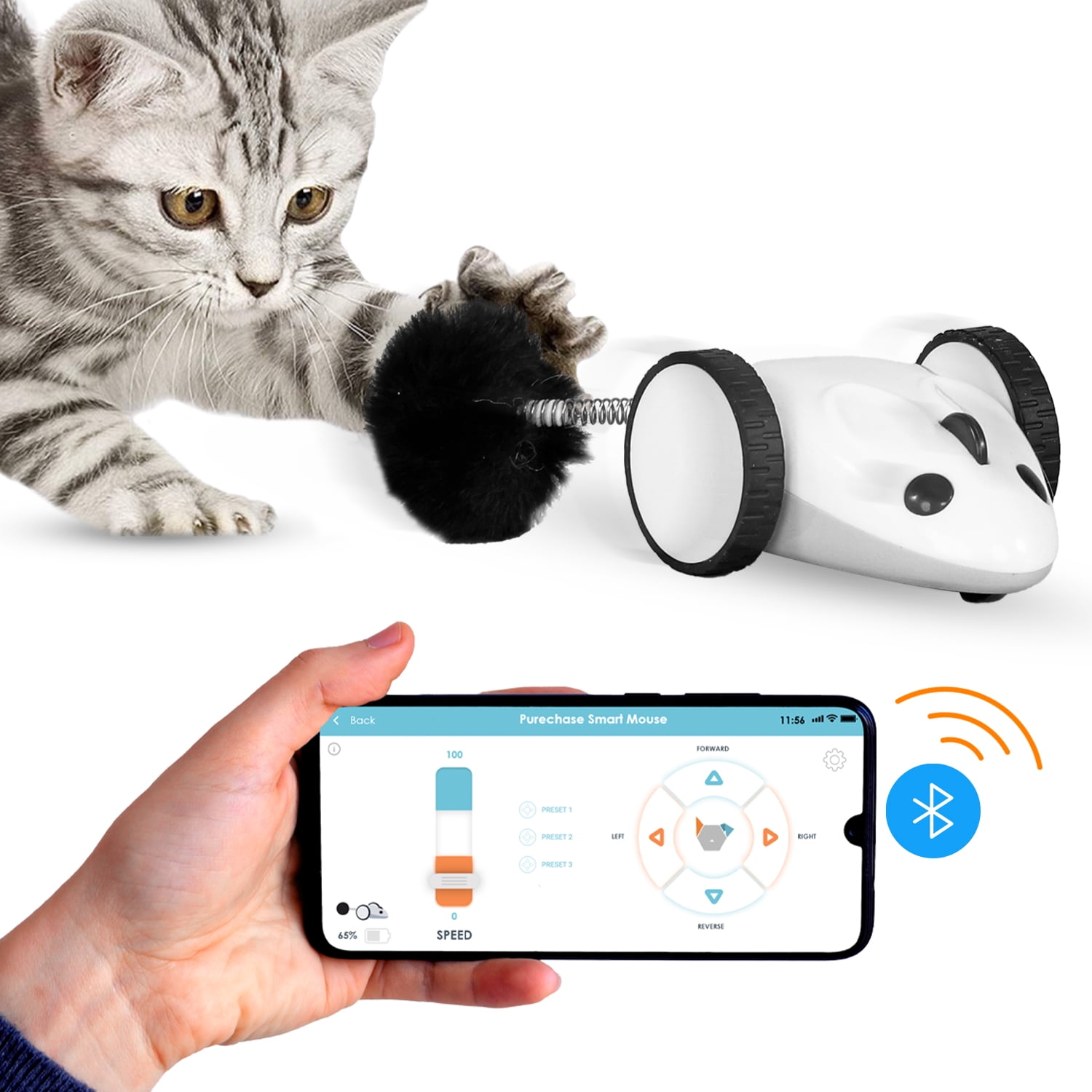 It's no secret that cats love to play, especially if playing somehow engages their natural hunting instincts. That's what makes this innovative Purechase Smart Cat Toy from Instachew the perfect toy for your cuddly little predator!
The motorized, mouse-shaped toy is a huge draw all on its own, complete with a tantalizing plush "tail" mounted on a spring for extra enticing movement. But the real magic is in the app-enabled features that let you control the toy's movement and speed from your smartphone. Best of all, the durable mouse toy is ingeniously designed to keep moving across just about any home surface, even if your cat flips it over. All materials in the toy are non-toxic and safe. The built-in rechargeable battery means no more dead batteries. Fun for multiple-cat households, too!
PROS
Encourages interactive play and bonding.
Designed to keep moving (and keep the chase going!) even when flipped over.
Control the toy's movement and speed through your smartphone with the INSTACHEW INFINITY app.
Comes with rechargeable battery and micro USB port for easy charging.
Made from durable, BPA-free materials.
Ideal for multi-cat households.
CONS
Power adapter not included.
App controls can be a little tricky to get used to.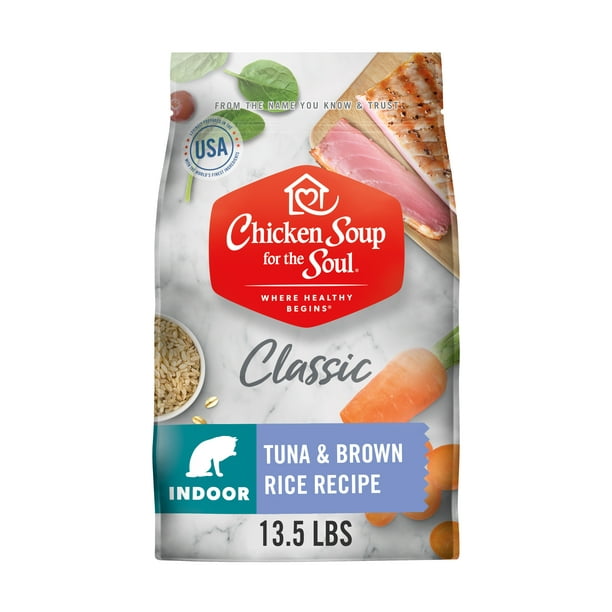 Only the best for your indoor kitty! Designed specifically for indoor cats, this Chicken Soup for the Soul dry cat food recipe guarantees to fill your feline's bowl (and belly) with dry cat food that's delicious and nutritious. It's made with wholesome proteins as the main ingredient, plus powdered cellulose for hairball prevention. You can feel good about feeding your cat this formula as it contains no corn, wheat, soy, or by-products. Made in the USA with prebiotic fiber for healthy digestion.
PROS
Smaller-sized kibble is easier to eat and digest.
Made with superfoods like spinach and cranberries for immune function.
Omega 3 and 6 fatty acids for healthy skin and coat.
Taurine for healthy vision and heart.
CONS
Innovative hairball prevention is only available in some formulas.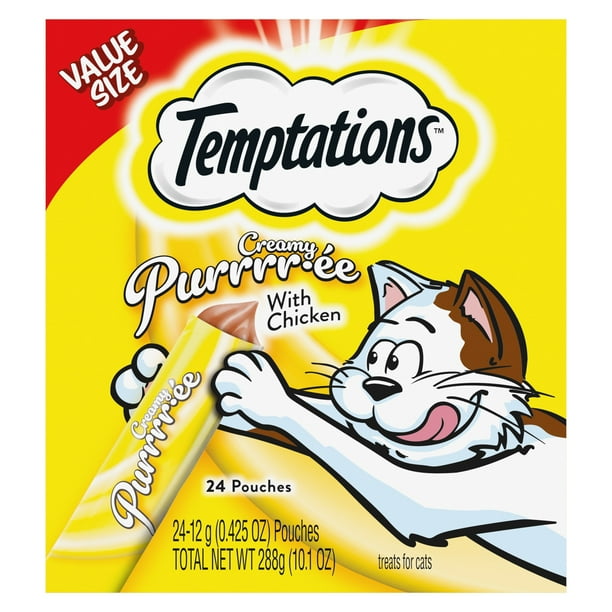 Premium creamy cat treats at a fraction of the normal price? You don't want to miss this deal on Temptations Creamy Puree Chicken Treats for your cat. Even the fussiest felines go bonkers for these delicious lickable treats. Plus, they come in a convenient tube, so they're easy to dispense and a great bonding opportunity for you and your kitty.
PROS
Creamy texture makes these treats a feline fav.
Packaged in convenient, single-serve tubes.
Feed your cat by hand or add to their favorite food as a topper.
Also available in salmon and tuna flavors.
CONS
8 kcals/pouch can add up quickly, so feed treats in moderation.