9 Ultimate Dog Dad Gifts for Canine-Loving Dudes
Father's Day is all about honoring the incredible dads in our lives. But let's remember that fatherhood isn't limited to those with human kids. Plenty of guys hold a special place in their hearts for cute, furry kids of the canine variety. So, this Father's Day, don't forget to celebrate all the spectacular dog dads you know!
We've rounded up some of the best gift options for pooch-loving papas, from the practical to the over-the-top extras they didn't even realize they needed!
How to Choose Great Dog Dad Gifts
Whether you're shopping for a first-time or long-time dog dad, here are two tips to help you choose the perfect gift:
Make it thoughtful. A happy pup makes a happy parent, and a happy parent makes a happy pup. So look for gifts that solve problems or make life easier and more enjoyable for dogs and their dads.
Make it personal. A gift that celebrates the special bond shared between a dad and their dog is always a hit, especially if it's personalized — either customized with an image or something humorous that captures the personality of a cherished canine.
Try to stay away from everyday essentials that may be subject to individual tastes, like food, or too practical or mundane, like poop bags. Your gift should be a celebration of the best parts of being a dog dad…not a reminder of daily chores.
That doesn't mean practicality is a complete no-no. But try to combine functionality with fun. For example, dog toys can help keep exceedingly energetic dogs occupied so their dads can rest a bit, or provide a bonding opportunity over shared play.
9 Best Gifts for Your Favorite Dog Dad
With so many potential products to choose from, we've compiled a quick list of go-to gifts for dog dads this Father's Day (or, really, any gift-giving occasion for dudes who love their dogs).
To bring you the best-of-the-best, we looked for items at price points to fit a broad range of budgets. You'll find practical gifts, as well as some playful, over-the-top suggestions every pup papa can appreciate.
Of everything we considered, here are the dog dad-worthy gifts that really stood out.
What to Buy the Dog Father in Your Life
The dog dad in your life deserves the best. As you scour the market for Father's Day gifts, keep an eye out for these top dog-approved picks.
All featured products are chosen at the discretion of the author. However, Great Pet Living may make a small affiliate commission if you click through and make a purchase.
Most Unique Gift for Dog Dads
Our Pick: Alpha Paw Custom Personalized Photo Keychain
Doggos hold the key to many dog dads' hearts. So this incredibly unique keychain from Alpha Paw seems especially fitting as a fab Father's Day gift. Simply snap a picture of the pup in question and Alpha Paw will create a richly detailed and durable keychain featuring their image, plus a name or message on the back. No dog dad would even dream of losing their keys once this one-of-a-kind gift is attached.
Highlights
Captures the image of a pet down to the tiniest detail
Reverse can be personalized with pet's name or message
Features easy-to-attach key ring
Unforgettable way to commemorate love for your pet
Things to Consider
Customized products take more time to make, so order fast!
A bit pricey, but may be discounted
Best Funny Dog Dad Gift
Our Pick: Bad Dog Wisdom Tumblers
Whoever said wisdom could be found in the bottom of a glass wasn't entirely wrong…not with this gift at least. Technically, the wisdom comes on the side of these hilarious tumblers…delivered graciously by dogs behaving badly. For the beer-loving dog dad in your life, you can't go wrong with these gift-worthy pint glasses.
Highlights
Gift is guaranteed to get a smile
Set of 4 glasses for the dog dad and his pack
6″ H x 3.4″ diameter; 16 fl. oz. capacity
Top-rack dishwasher safe
Things to Consider
Popular item; may be on back order
Best Gift for New Dog Dads
Our Pick: Moderno Dog Crate
Don't think of this as the ultimate dog dad gift (though it is). Think of it as an investment in something every new pet parent craves—a good night's sleep! The Moderno Dog Crate is so sturdy and beautifully made that it's more like a stylish piece of furniture. But it offers both coziness and security that can help a new pup feel at ease…so dog dad can get some much-needed Zzzzzs.
Highlights:
Comes in three sizes
Two entrances for easy access
Stylish, contemporary design
Easy to clean
Great for crate training
Things to Consider:
May not fit all budgets
Crate pad sold separately
Best Matching Dog & Dad Gifts
Our Pick: Vintage Vacay Dog and Dad BBQ Shirts
For the fashion-minded dad and dog, gift this adorable matching set of vintage tropical shirts from Dog Threads. Way more stylish than matching T-shirts, these vibrant button-downs have another claim to fame—they were worn by dog dad Justin Bieber and his pup, Oscar.
Highlights:
Stylish tropical print perfect for summer BBQs
Made of soft 80% cotton/20% polyester blend
Available in a range of human and canine sizes
Things to Consider:
Check the size chart if your dog has a unique body shape
May not appeal to dogs who don't like to wear clothes
Best Gift for Adventurous Dog Dads
Our Pick: K9 Sport Sack Dog Carrier Backpack
For dog dads who love to explore the great outdoors while spending quality time with their favorite canine, there's no better gift than a K9 Sport Sack Dog Backpack. Made from lightweight waterproof fabric with durable (and comfortable) cushioned shoulder straps, these backpacks are designed to carry small, medium, and large dogs on long hikes or bike rides. Choose from five different styles—Trainer, Air, Urban, Air Plus, and Rover—to find the carrier that fits your adventurer's style.
Highlights:
Choose from a variety of sizes and colors to fit your dog
Mesh construction for airflow
Pack can be worn on front and back
Detachable sun and rain hood.
Store your pet's treats and water bottles in the side pockets.
Things to Consider
Though padded, straps may be uncomfortable when carrying larger dogs
Not a lot of pockets or storage capacity
Best Gift for Movie Buff Dog Dads
Our Pick: The Dogfather T-Shirt
Here's an offer no dog dad can refuse—a gift that tells the world how much he loves movies…and his pup. This tapered T-shirt bears a fun take on a classic film logo, designed just for dog dads. It's also available as a hoodie or a hat. And as an added bonus, you can pick up a matching etched glass to toast your favorite dog father of the year.
Highlights:
100% pre-shrunk cotton
Wide range of sizes, up to 3X
Made in the USA
Things to Consider
Machine wash on cold to avoid shrinking
Best Gift for Out-of-This-World Dog Dads
Our pick: Baby Yoda Dog Toy
Actually…yes, we know it's Grogu. But whatever you call this adorable chew toy, this is a gift that is sure to be universally loved by dogs and dads alike. Simply because…this is the way. Constructed of mixed materials that are fun to chew, like canvas and soft sherpa, the toy also features crinkly ears and a squeaky center. All in all, a toy dog dads and pups will love as much as everyone's favorite Mandalorian father figure loves his Jedi foundling.
Highlights:
Made from durable canvas and soft sherpa materials
Crinkle and squeaker sounds to entertain and engage dogs
Proudly made in the USA
Things to Consider
Always supervise dogs when playing with chew toys
Best Gift for Rescue Dog Dads
Our Pick: Embark DNA Dog Kit
Some rescue dog dads may never find an answer to the eternal question: "What breed is my dog?" But when you give the gift of Embark DNA Dog Test…mystery solved! Simply swab a dog's inner cheek for 30 seconds, then mail the sample in for analysis to get accurate results within 2-4 weeks. Best of all, this gift doesn't just satisfy fatherly curiosity. If you choose the Breed + Health Kit option, you can also find out about key genetic health risks your pup may face.
Highlights
Discover breed breakdown or breed breakdown, physical traits, and health risks
Simple sample collection and mail-in process
Fast, accurate results in 2-4 weeks
Things to Consider
Priced around $100-150, depending on the kit you choose
Best Budget-Friendly Dog Dad Gift
Our Pick: Dog Father's Day Bandana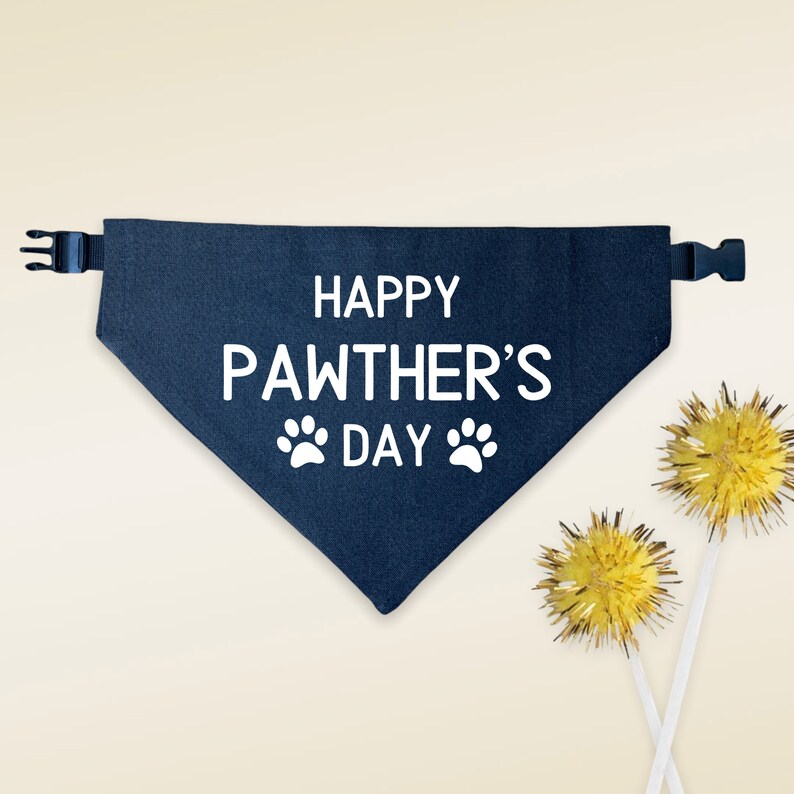 Nothing says perfect Father's Day gift like a punny dad joke. That makes this Dog Pawther's Day Bandana from Etsy a great pick as well as a great value. Available in a range of colors, patterns, and sizes, this adorable cotton bandana will add a festive touch to the holiday, whether you're celebrating with breakfast in bed or a family BBQ.
Highlights:
Made from 100% soft, breathable cotton fabric
Available in XS, S, M, L, XL
Available in Black, Blue, Red, Purple, Pink, and Confetti
Hand-made
Things to Consider:
Express shipping is available
Tips for a Great Dog Dad Celebration
As you get set to celebrate the dog dad in your life, gifts are always welcome. When it comes to finding the right gift, there's no wrong answer. No matter what you choose, the best gift any dog dad could ever receive is spending time with friends and family – furry and otherwise!