2022 Gift Guide: Top Picks for Pets and Their People
All featured products are chosen at the discretion of the author. However, Great Pet Living may make a small affiliate commission if you click through and make a purchase.
'Tis the season to spread some cheer to the pets that bring so much joy to our world! Our team here at Great Pet Living—including our furry, four-footed, in-house experts—has been hard at work play-testing, taste-testing, sleep-testing, and chew-testing plenty of products for our 2022 Gift Guide. The result: All sorts of gift-worthy goodies for dogs, cats, and fellow pet parents.
Not gonna lie, it's been so much fun, we can't bear to keep it to ourselves.
So here's our gift to you: Our annual Holiday Gift Guide, created specifically for the pets and pet lovers on your list. And here's a bonus gift you can give yourself: Don't forget to enter the Dogs of Instagram annual Peace. Love. Pups. Holiday Giveaway for a chance to win a grand prize holiday pup package valued over $2000!
.
Our Top 2022 Gift Guide Picks
Need some help finding the perfect present for the most lovable furballs on your gift list? Here are our top picks for pets both naughty and nice…including gifts the whole family can enjoy!
Gifts for Pet Lovers
Dog Gifts
Cat Gifts
Gifts for Pet Lovers
When you're making your list and checking it twice, don't forget to add some gifts for your favorite pet people…including you! (We're all for self-gifting. It's the newest form of self-care.) You can even sign your pet's name on the gift tag if it makes you feel better. Here are our top picks for instant holiday hits any pet lover will adore.
Best Gift for Curious Dog Parents
Our Pick: Embark Dog DNA Test Kits
Use offer code DOI for $60 off a Breed + Health Kit or Purebred Kit
There's no question about it: Your dog is 100% part of your family. But their own family tree may be more of a mystery. It's time to end these guessing games! Embark Dog DNA Tests are the perfect gift for curious pet parents everywhere. With just a simple cheek swab and an easy mail-in sample kit, you can discover everything from your dog's magical mix of breeds (Embark tests more breeds than any other dog DNA test) to 215+ genetic health risks, so you can provide targeted, effective care and help your pet live a longer, healthier life.
In fact, 61% of pet owners plan to adjust their dog's routine or feel more prepared to be a good pet parent after testing with Embark. You can even find and connect with other dogs who share your dog's DNA with their world's first Canine Relative Finder!
In partnership with Cornell College of Veterinary Medicine, Embark has developed the most scientifically advanced and accurate dog DNA tests. Every test contributes data that brings Embark closer to fulfilling our mission to improve the lives of all dogs. So whether you're hoping to solve the puzzle of your rescue pup's past or you're interested in finding out more about your purebred dog's health, there's an Embark Dog DNA Kit for you…and any other curious pet parents you know.
Find our full Embark Dog DNA Test Review to find out more.
Best Howliday Apparel
Our pick: Crown & Paw Custom Christmas Sweatshirts
Shop now and save 30% off your order
(No promo code required)
Some people wear their hearts on their sleeves. But now, stylish pet parents can wear their cat, dog, or any other beloved animal on an adorable pet face Christmas sweatshirt from Crown & Paw! Imagine donning this fab, fun apparel for a festive holiday party, caroling, or even Christmas morning. Crown & Paw hand designs every portrait with careful attention to detail. Simply choose from a variety of festive holiday sweatshirt designs, upload a pet photo, and place your order. Within 1-2 days, you can preview an art proof of your custom design and make unlimited edits until you're 100 percent happy. But don't wait too long…This one-of-a-kind sweatshirt is the "ulti-mutt" gift and a "cat-tastic" choice for any pet lovers on your list. So be sure to order early and beat the holiday rush. We're pretty sure even Santa is shopping for a Crown & Paw Christmas Sweatshirt featuring Rudolph this year!
#wayfair
Best Seasonal Splurge for Your Home
Our pick: Littell EcoFlex Pet Crate End Table
Save up to 50% OFF all pet furniture this holiday season
Fashion, form, and function come together to create this upscale pet crate designed to fit seamlessly into any decor, making it the perfect holiday upgrade for pups and parents alike! The Littell furniture-style dog crate looks like a posh end table, but it functions like a high-quality pet crate. It's available in four modern colors – espresso, antique white, gray, and russet – to complement your existing design palette. Unlike traditional counterparts made of metal, this unit is made of durable EcoFlex, a propriety formula created from reclaimed wood and plastic. The moisture-resistant material provides ultimate odor control, to keep your home smelling as good as it looks. The color will never fade, and the tabletop is removable for easy cleanup. As a bonus, assembly is a breeze with no tools required. From Yorkies to Irish Wolfhounds, there's a Littell Pet Crate designed to fit pets of all shapes and sizes. So spruce up your pup's sleeping area and get ready to wow Santa (and your very, very good doggo) this holiday season.
Best Gift for Preserving Holiday Memories
Our Pick: Photobucket Unlimited Photo Storage Subscription
25% off Unlimited storage and sharing plan for a full year with offer code 25OFFUNLIMITEDMO
Raise a paw if you or someone you know has several hundred (or thousand) pictures of pets on their phone. The "Storage almost full" message is enough to send shivers up any pet parent's spine…especially this time of year, when photo-worthy holiday moments abound! Here's an easy (and gift-worthy) fix: Let Photobucket be the caretaker of your furry companion's most memorable moments. The subscription service is used by over 70 million pet lovers to safeguard over 15 billion photos and videos. Capture every adorable snap without worry, then save and organize your photos on Photobucket for easy, one-click sharing on social platforms. Whether on Android or iOS, the Photobucket app helps you backup and store your photos in one central location, so your precious pet memories are preserved. A free trial gives you 21 days to determine your storage needs, so it's a win-win. Choose from Lite, Plus, or Unlimited plans. All your photos can be accessed from a desktop, laptop, tablet, or any other devices with a paid subscription plan. Purchase the subscription plan that best suits your pet-loving, photo-taking recipients. With Photobucket, not even the Grinch can steal your precious memories!
Best Gift for Art Lovers
Our pick: Paint Your Life Personalized Pet Portrait
Save $60 off your order with code GREATPET60
Got a one-of-a-kind pet? (Or know someone who does?) Then get ready to win the holidays with a gift as unique as they are. Turn beloved pet pix into a true art masterpiece with a personalized, hand-painted pet portrait from Paint Your Life! Simply upload a cat or dog photo to the Paint Your Life website, and the user-friendly interface will walk you through the process of creating your custom artwork. You can choose from a variety of media, including watercolor, acrylic, charcoal, or oil, and specify whether you want to include or exclude background imagery from the photo. You can even select the artist you want to work on your piece, after reviewing examples of their work, or let Paint Your Life choose for you. Finally, you can make as many adjustments to the digital proof as you'd like. Then, once it's approved, just sit back and wait for your one-of-a-kind artwork to arrive. There's even an expedited option, if you want to ensure your holiday gift arrives on time…to delight the pet (and art) lovers on your gift list!
Read our full Paint Your Life Review to find out more.
Best Personalized Gift for Pet Lovers
Our Pick: Yappy Personalized Pet Book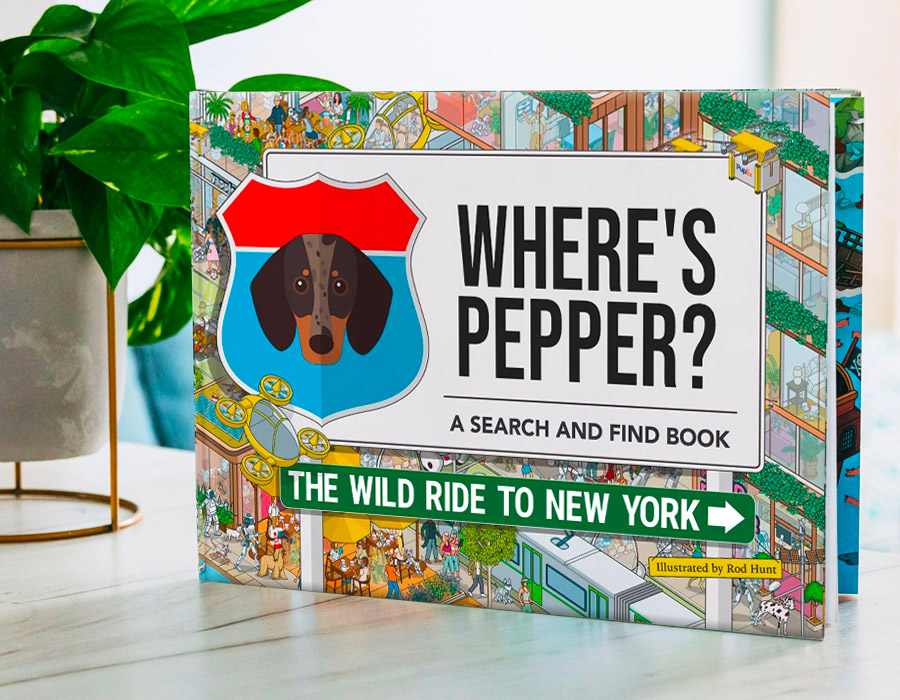 Whether you're shopping for a dog lover or a cat lover, this one-of-a-kind search-and-find book is sure to be a holiday hit for any pet parent. Inspired by the well-known "Where's Waldo?" book series, this customized book takes you on a "Wild Ride" in search of the cat or fdog of your choosing! All you need to do is select a breed and color for up to two cats or dogs, plus a city or state name where the story's action takes place. The book is illustrated by Rod Hunt and custom-printed so each page features a challenging landscape or cityscape where your chosen pet's icon is hiding. For even more fun, there's also a range of 150 other hidden characters and objects to find on each page. This truly novel gift is fun for the whole family!
@sharkninja
Best Gift for a Spotless Holiday Home
Our pick: Shark AI Ultra 2-in-1 Robot Vacuum & Mop
Save $200 with code GREATPET200 now through 1/1/23
This is the perfect gift for anyone who loves pets…but not the mess that often comes along with the territory! This Shark AI 2-in-1 Robot vacuums and mops, so stray pet hair, mud, messes, kibble, and litter don't stand a chance, no matter what types of floors you have in your home. It features a foolproof navigation system that cleans every single square inch of your floors, including hard-to-reach corners, while trapping dust and allergens in the HEPA filtered base. The self-cleaning brush roll is designed to pick up pet hair without it getting all wrapped up in the roll. And the deep-cleaning mop scrubs hard surfaces 100 times per minute to ensure ground-in grime goes away fast. Best of all, this super-smart Shark robot model even empties itself! This whole home cleaning system from the #1 vacuum brand in America is virtually hands-free, meaning you can spend more time enjoying your pet instead of cleaning up after them. It's an incredible gift for both pet parents and allergy sufferers, when you're getting ready to welcome everyone home for the holidays and all year through!
Best Gift for Holiday (or Everyday) Travelers
Our Pick: TrustedHousesitters Membership
For pet parents who love to travel, the next best thing to an all-expenses-paid world tour is the gift of an annual TrustedHousesitters membership! TrustedHousesitters members get unlimited pet care from a network of verified and reviewed in-home pet sitters. So when you can't travel with your dog or cat, you can still enjoy a guilt-free vacation knowing your pets are happy at home in the care of a 5-star sitter.
Not only is veterinarian-recommended TrustedHousesitters easier on your pet, but it's also better for your budget than traditional boarding services, kennels, and catteries. With a TrustedHousesitters membership, you won't pay a dime for vacation pet care. The sitter network is made up of vetted, pet-loving travelers who trade care services for a place to stay. There are no sitter charges or hidden fees. Plus, you and your sitter get free 24/7 access to phone, text, or video consultations with veterinary experts who can address any questions or concerns.
So give yourself (or any of the pet parents on your list) the gift of peace of mind this year…along with great vacation pet and home care with TrustedHousesitters.
Best Gift for When Shed Happens
Our Pick: ChomChom Pet Hair Remover
Pets own your heart, yet there's no reason hair and fur have to come along for the ride. Shed happens, but it's no match for the ChomChom Pet Hair Remover. Picture this: It's time for holiday photos, but your new sweater is riddled with cat hair and dog dander. ChomChom to the rescue! Pet hair and fur is no match for the reusable lint brush remover.
Say goodbye to lint roller sheets and forget the sticky tape. Glide the ChomChom over clothes or furniture a few times, and push one button to release the contents. No more snagged outfits, thanks to the electrostatic charge created by the smooth roller. Makes the perfect stocking stuffer for the pet lovers in your life.
Stocking Stuffer for Pet Parents:
Our pick: Great Clean Pet Wipes for Dogs & Cats
Too busy with holiday hijinks to make it to the groomer? Fluffy or Fido get into some messy mischief? Did somebody leave muddy paw prints all over your floor? Do yourself (and your home) a favor and stuff your own stocking with fresh-smelling Great Clean Cleansing Wipes for Dogs & Cats. These portable, fresh-smelling wipes are perfect for grooming on the go and easily remove dirt, dander, odor, pet hair, and more. Talk about a holiday miracle! Plus, they're made with soothing aloe and oatmeal, so they're easy on your pet's skin. No matter how much naughtiness pets get into, Great Clean Wipes will keep them looking nice! And that's a gift no pet parent can live without.
#bona
Best Way to Prep for Holiday Visitors
Our pick: Bona Pet System Multi-Surface Floor Cleaner
The holidays can get messy, but you'll be prepared for anything with Bona Pet System Floor Cleaner. Whether it's muddy paws or tufts of fur, Bona provides a safe, quick solution that's essential for anyone hosting the holidays at their home. After you've decked the halls, use Bona's water-based cleaning solutions with Odor Guard technology on all your floors. Cat miss the litterbox? The Bona System Floor Cleaners have it covered with an enzymatic formula to clean and lift away stains and odors. Dog hair blanketing your floors? Put Bona's specialized Pet System Microfiber Mop and Microfiber Sweeping Pad into action. Say goodbye to pet fur, hair, dander, and other household allergens from a brand that genuinely cares about you, your pets, and the planet. Choose from the multi-surface floor clear for dogs and cats, the premium microfiber mop for multi-surface floors, and the multi-surface sweeping pads.
Dog Gifts
Who's a good dog? Your dog, of course! Whether you're looking for toys, treats, or the perfect present for under the tree, we've got gifts galore that are guaranteed to get tails wagging.
Best Dog Toy for Energetic Dogs
Our Pick: iFetch Automatic Ball Launcher
Whether your dog enjoys a good game of fetch or the sight of a B-A-L-L triggers a full-on fetching frenzy, the iFetch Automatic Ball Launcher is a holiday home run. Choose the classic iFetch, which launches mini tennis balls 10, 20, or 30 feet, or go long with the iFetch Too, which can launch standard-sized tennis balls 10, 25, or 40 feet. Either way, fetch-obsessed dogs can enjoy the non-stop fun while you give your overworked throwing arm a much-needed break.
Both models come with 3 balls and a battery adapter. iFetch runs on C-cell batteries or a wall plug, while iFetch Too features a built-in rechargeable battery. Plus, the iFetch is perfect for indoor and outdoor play. But be warned: If you take this interactive toy to the dog park, you better bring enough balls for everyone!
Best Gift for Pampering Your Pup
Our pick: Friday's Dog Essentials Bundle
Click here for 50% Off
There's nothing like snuggling up with your favorite pooch to enjoy some holiday hang time. A clean dog with fresh breath makes it an extra special treat — and so is this Essentials Bundle from Friday's Dog, a premium pet care brand originally created by celebrity hairstylist David Babaii. The star of the show is Oodle Doodler, a 6-in-1 dog shampoo made with camelina oil, moringa oil, and marshmallow root to clean, deodorize, moisturize, and nourish your dog's skin and coat. Next up is Mighty Mouth, an oral wellness water additive for dogs that doesn't taste, well, weird. Free of sugar, alcohol, detergent, and mint, it destroys yucky plaque and tartar-causing bacteria. To top it all off, you'll have two Snacktabulous ways to reward your dog for a grooming job well done: peanut butter coated sweet potato fries and Alaskan salmon jerky. Yum! All products are veterinarian-approved and made in the USA.
Best Gift for Adventurous Dogs
Our pick: Kurgo Loft Dog Jacket
Whether the weather outside is frightful, sunny, or in between, the high-performance Loft Jacket from Kurgo keeps dogs warm and delightful, no matter where their adventures take them! The insulated, water-resistant jacket features an athletic cut that fits dogs of all shapes and sizes without restricting movement. Plus, it comes with lots of extras designed to make life easier on you and your pet, like a two-way zipper for easy collar or harness access, adjustable sides for a snug fit, reflective piping, durable construction, and cozy polytech filling. Best of all, the Loft Dog Jacket is fully reversible and comes in a wide range of colors and patterns. So it's like getting two must-have coats in one. Gear up with this gift and get ready for some dog zoomies. Then, let it snow, let it snow, let it snow!
#snuggle-puppy
Best Gift to Deliver Comfort and Joy
Our pick: Original Snuggle Puppy
There's no place like home for the holidays. But the holidays can make any household a little extra hectic, too. If your dog gets stressed during the most wonderful time of the year, or you simply want to keep things calm and bright, here's a gift that can help: the Original Snuggle Puppy!
Designed to appeal to the pack animal in every pup, this innovative plush naturally calms anxious dogs by mimicking the warmth and comfort of a furry best friend. Every Snuggle Puppy comes with a disposable heat pack that offers up to 24 hours of reassuring warmth and features a "real-feel" pulsing heartbeat to calm your pet. You can even choose from a wide range of fur colors and patterns to make your Snuggle Puppy a convincing litter mate. It's the perfect present for pups (and parents) who need a little more comfort and joy around the holidays. And it's a great solution to help calm nervous, distressed, anxious, barking, or whining dogs all year through.
Best Gift for Dogs Who Like to Feast
Our pick: Spot + Tango Unkibble
Take 50% off your first order and receive a FREE bag of chicken munchies when you use code HOLIDAY50 at checkout
Stuff your pup's stocking (and belly!) with the gift of great-tasting, healthy and nutritious Unkibble from Spot + Tango. This revolutionary, ready-to-serve formula combines the best of fresh dog food with the convenience of dry dog food. So your dog can enjoy delicious, human-grade ingredients, like nutrient-dense meat and fish plus healthy fruits and vegetables, in a recipe that's gently dried at a low temperature for maximum crunch.
Just answer a few simple questions about your dog on the Spot + Tango website and you'll receive a customized feeding plan developed to fit your dog's unique nutritional needs. Best of all, you can get your pet's UnKibble meals delivered right to your door. And UnKibble still costs about 40 percent less than other fresh and frozen dog foods. Quality, convenience, and value? That makes UnKibble a great gift for you and your doggo!
Best Gift for a Long Winter's Nap
Our Pick: Canopy Dream Fur Dog Bed
Every night will feel as magical as the night before Christmas when your pup is snuggled up in this luxe Canopy Dream Fur Dog Bed by Bowser's Pet Products. We love it because it's fashionable, functional, and comfortable. The tufting gives this dreamy bed a high-end, modern look, complete with a "scooped" front that provides easier access for small or arthritic dogs. The plush canopy and overstuffed bolsters cradle your dog in a cozy, comforting embrace pets find reassuring. Zippered, easy-to-clean covers make this an ideal gift for pet parents, too!
Best Dog Gift for Peace on Earth
Our pick: The Anxious Pet Calming Kit for Dogs
Whether it's the parade of delivery people knocking at your door, hectic holiday travel, out-of-whack schedules, or festive (and incessant) New Year's Eve fireworks, the holiday season can be a minefield of stress and anxiety for our pets. To keep your home merry and bright, treat your dog to a treat from The Anxious Pet's Calming Kit. This must-have bundle features a delicious combo of bacon-flavored Relax and Roll soft chews and peanut butter and banana-flavored Relax and Roll supplement bars. Both are packed with soothing ingredients proven to promote calm and relaxation. Plus, they're CBD-free, so there's no need to worry about drowsiness. Calmer pups make for a calmer household. And a calmer household means a more enjoyable holiday season for everyone!
#puffpalz
Best Gift for Your Best Bud
Our pick: PuffPalz Beaker Buddy Dog Toy
Get 10% off with coupon code DOI22
To put it bluntly: Certain substances are strictly off-limits for dogs. So if you want to include your pup in your 420-loving lifestyle, there's only one safe way to do it: with PuffPalz dog toys! These tongue-in-cheek dog toys offer your best bud a great way to enjoy a good (chew) sesh. The PuffPalz Beaker Buddy toy makes a great gift for any dog or herb-loving dog parents on your list. Made from 100% non-toxic, dishwasher-safe, all-natural rubber, it's designed to dispense max chewing, tugging, and chilling pleasure. Available in a double rainbow array of colors, the Beaker Buddy features raised nubs that massage your dog's gums and help keep teeth clean, plus a secret compartment where you can stash treats to engage your dog and boost mental stimulation. RUFF RUFF PASS!!! PuffPalz Beaker Buddy is sure to be a big hit this holiday season. In fact, supplies are extremely limited, so be sure to sign up for notifications to receive updates on the newest arrivals. It's the perfect stocking stuffer and, best of all, legal in all states!
Best Dog Harness For Comfort and Reliability
Our Pick: Diggs Classic Harness
Rudolph isn't the only one buckled up for safety this holiday season. Deck the halls and ring in the new year with a comfortable Diggs Classic Harness for dogs. This newly launched harness looks great and performs even better. Say goodbye to the tangled harness woes that come with typical overhead or dual step-in designs. The Diggs harness features a brilliantly simple one-leg step-in design and smooth adjustable sliders, so you can find the perfect fit, whether you have a Dachshund or a Greyhound. Is your dog a champion puller like one of Santa's reindeer? No sweat! This harness is designed for both comfort and security, with two D-ring options — one on the front that's perfect for leash training puppies and pullers, the other on the back, so you can adapt as your dog grows and matures. Even Santa himself would approve of the waterproof coated webbing, rustproof metal hardware, and odor-proof, durable nylon all-weather fabric. This harness is built to last!
Best Smart Collar for Dogs
Our Pick: Wagz Freedom Smart Dog Collar
There's a saying that goes, "Live life like someone left the front gate open." With the Wagz Freedom Smart Collar, your dog can do just that. This easy-to-use smart collar creates a geo-fence in a few seconds and uses zero shock corrections. Pet parents create virtual boundaries around their property using GPS data at home or on the go. The Freedom Smart Collar is intuitive enough to recognize these boundaries to keep your pups safe. Use the Wagz app to manage multiple Keep Out Zones and geofences for multi-dog households.
Dogs experience one of three stimuli – an ultrasonic sound, a buzzing sensation, or a brief beeping sound. No more digging up the yard to install expensive fencing – Wagz keeps dogs safe without a hefty price tag. Give the gifts of safety and peace of mind this holiday season from Wagz.
Best Stocking Stuffer for Battling Dreaded Dog Breath
Our Pick: Smartmouth 7-in-1 Dental Treats
The holidays are a time to snuggle in under blankets and enjoy some one-on-one time with the people (and pets) you love. That definitely includes extra cuddles with your dog. But, if you don't want to deal with bad breath, we have the perfect stocking stuffer. Smartmouth 7-in-1 Dental Treats from The Missing Link aren't just deep-cleaning, breath-freshening dental chews that are perfect for all those holiday mistletoe moments. They're made with a multi-tasking 7-in-1 formula that provides whole-body health support for teeth, breath, joints, skin, digestion, heart, and a daily vitamin supplement. Oh, and did we mention that it's crunchy and delicious? Smartmouth is flavored with real pork and poultry, so it's not like receiving a toothbrush as a gift. Trust us—they're a great-tasting, healthy treat. Give the pooch in your life the gift of Smartmouth, then get ready for some kisses!
Best Stocking Stuffer Treat for Senior Dogs
Our Pick: Natural Balance Limited Ingredient Diets Jumpin' Stix
Even if your dog is long past puppyhood, there's still a way to keep them young at heart…and then some! No, it's not the fountain of youth (on back-order everywhere…not to mention, impossible to wrap). It's a healthy helping of Jumpin' Stix from Natural Balance. These delicious dog treats are formulated with glucosamine and chondroitin to support healthy hips and joints so your dog can maintain an active and playful life to match their youthful spirit. The grain-free formula is made with a limited list of high-quality ingredients, so it's great for healthy digestion and limited-ingredient diets, too. Who needs the fountain of youth? Just pack your sack of presents with plenty of Natural Balance Jumpin' Stix to keep your adult dog jumping for joy.
Best Cat Gifts
We're almost certain that cats believe all the holiday hubbub is purely for their entertainment anyway. (Why would the holidays be any different than any other day?) So, there's no harm in spoiling your precious kitty with a sleighful of gifts designed to please even the most finicky feline.
Best Gift for Feline Foodies
Our Pick: Smalls Fresh Food Subscription
For cats who love to eat, a Smalls cat food subscription is the feline equivalent of having a Michelin-ranked personal chef in your kitchen. Smalls specializes in human-grade fresh and freeze-dried raw recipes that are clean, nutritious, and made with tasty, protein-rich ingredients. Fresh formulas are available in three flavors — Bird (chicken), Cow (beef), and Other Bird (turkey) — and two textures, smooth or ground. For cats who prefer some crunch, Small offers freeze-dried raw niblets in Bird (Chicken), Other Bird (Turkey), and Water Bird (Duck) flavors. You can even tell them about your cat and they'll send a box that's customized to fit their palate and their health needs. Best of all, Smalls delivers a subscription box to your door once a month, just when you need it. It's truly the perfect gift for cats who love to eat and pet parents who want them to eat well and be well.
Read our full Smalls Cat Food Review to find out more.
Best Gift for Tree-Obsessed Cats
Our pick: Henrietta Cat Tree by Archie & Oscar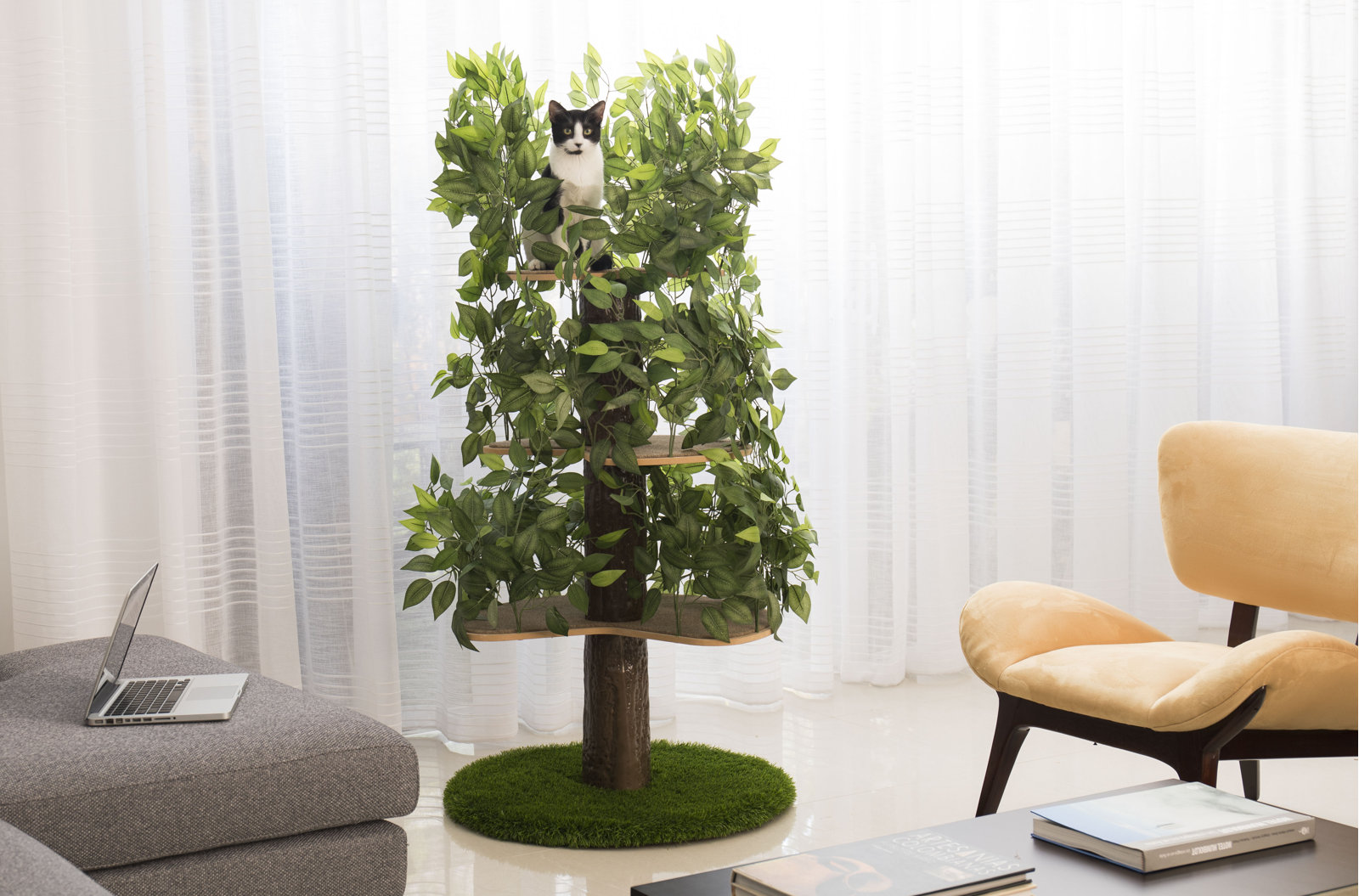 Save up to 50% OFF all pet furniture this holiday season
Whether you're looking for a way to distract your curious kitty from attacking your Christmas tree or the perfect holiday gift for your favorite feline, your search is over! The Henrietta Cat Tree is a beautifully designed, realistic-looking cat tree that offers over 50 inches of primo climbing real estate to engage your adventurous explorer. It comes in a variety of colors (including a vibrant fall variant) and two shape options (rounded platforms or square), with a non-skid base for safety. Each perch is adjustable and can be swiveled and secured in different positions to suit your cat's preferences. The foliage offers plenty of opportunities to take cover or play peek-a-boo. And it's a great alternative to traditional cat towers, with an aesthetic that fits perfectly into modern decor. Best of all, it's easy to assemble and move. So you can keep it up for the holidays or all year round!
Best Stocking Stuffer for Cats
Our Pick: Ethical Pet 5-in-1 Spot Pet Laser Classic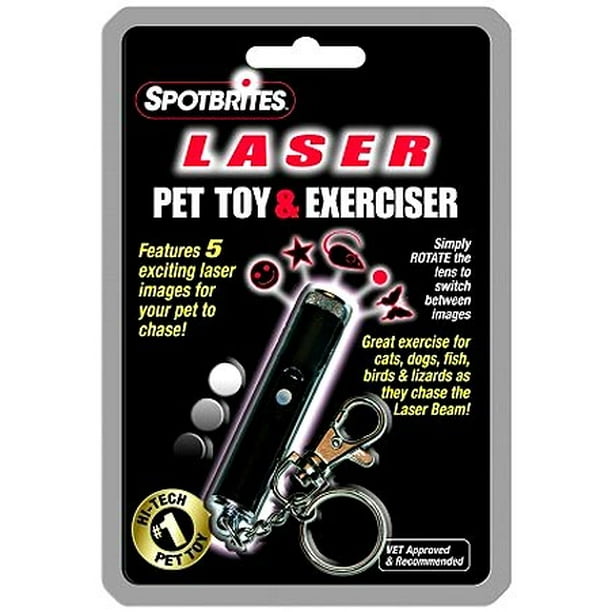 You can't go wrong with a laser toy when it comes to keeping cats entertained and active. But you can go bigger and better. And that's exactly what this 5-in-1 Spot Pet Laser Classic cat toy from Ethical Pet does. Instead of a boring old dot, this laser light features five different laser hologram images you can change simply by rotating the lens. There's even a star shape you can use to distract your cat from all the oh-so-tempting ornaments and holiday decor in your home. Best of all, batteries are included, so you can skip the last-minute search and get right down to bonding with your beloved cat as they chase, pounce, and stalk their festive, glowing, laser "prey."
So here's our gift to you: Our annual Holiday Gift Guide, created specifically for the pets and pet lovers on your list. And here's a bonus gift you can give yourself: Don't forget to enter the Dogs of Instagram annual Peace. Love. Pups. Holiday Giveaway for a chance to win a grand prize holiday pup package valued over $2000!
'Tis the Season to Win!
The Dogs of Instagram annual Peace. Love. Pups. Holiday Giveaway ends on 12/17. So don't forget to enter for your chance to win a grand prize holiday pup package valued over $2000!
.